After ten years of taking college courses, I have finally finished the last requirement, and received my Bachelor of Science in Technical Management from Embry Riddle Aeronautical University. It was a long road, and I never envisioned it taking this long. It took ten years because during that time quite a lot transpired, I needed breaks, and life happened. However, dedication and perseverance paid off, like they typically do.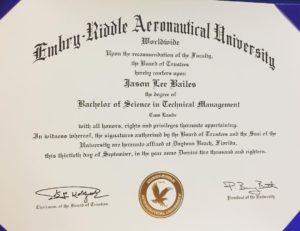 In 2008, when I first started taking courses, the university awarded me with a good amount of college credits (around 50), taking into consideration all of the schools, both technical and leadership, that I had attended over the years as a Marine, as well as obvious things such boot camp replacing any kind of physical education requirements, etc.
I had just returned from a deployment and knew I had some time before I would go anywhere again. However, I still had a full time job and family that needed my time as well. Some semesters I would take one class, and others I would take two classes. I could do one class easily, but two really challenged me. I realized two at a time was not great balance in my life, but had to reconcile that with the fact that one class at a time was going to take a long time.
I ended up alternating – one class, then two, one, two – until I got promoted to Master Sergeant (E-8 in the Marine Corps) in February 2010 and moved to another squadron that would be deploying in about a year. But that didn't mean that I had a year to take classes.
A seven month deployment doesn't just mean seven months of being gone. Before that even happens, there is a six month training cycle that takes place, filled with long days at work and, typically, quite a few weekends. Also during that training cycle, there are four "mini-deployments" to some remote location and to whatever ship your unit will eventually be deploying aboard. Each of the these "mini-deployments" (we called them "work-ups") lasted anywhere from ten to twenty days, with about the same amount of time in between each one. We eventually deployed and were gone summer/fall of 2011. The point is, I was not taking classes most of 2010 and all of 2011. Almost two years gone just like that. At that point I had 73 credits, with 47 more to go.
After returning and the post-deployment busy season was over, I was able to continue classes, completing five in 2012. I retired from the Marine Corps in January 2013 (after 21 years) and joined the civilian world with a new job that was close to home. I chose to stop going to classes while I learned the ropes at my new civilian job, a decision that I now see was a mistake. I got caught up in enjoying my new life as a civilian, and the routine of work, family activities, and life.
I needed to get back in the saddle, but I quickly learned that taking two classes was harder now. The campus I went to was 30 miles away, between two of the bases I worked at, the air station at Camp Pendleton and Marine Corps Air Station Miramar. This had made it easy to go to class after work and then drive home after class. However, now I lived and worked 30 miles away and would have to commute after work several days a week. This took a toll on me and after a year of that, I decided one class at a time was enough.
The last two years of going to school, I felt like I said "almost done" every time someone asked me about it. I was perpetually "almost done". It took forever. I was sick of it. Homework at 45 and 46 years old sucks. This past summer, I finally completed all course requirements, walked across the stage, received my diploma, and closed that chapter of my life. Check in the box. Mission accomplished. DONE.
Perseverance. An incredibly important word when dealing with anything challenging in this world. Merriam-Webster defines it as "continued effort to do or achieve something despite difficulties, failure, or opposition". I define it as necessary.