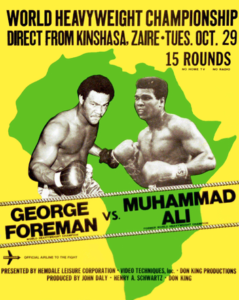 On October 30, 1974, Muhammed Ali defeated George Foreman for the boxing Undisputed Heavyweight title. The fight took place in Kinshasa, Zaire and was dubbed the "Rumble in the Jungle" amid much media hype and has since been called "arguably the greatest sporting event of the 20th century."
The 25 year-old Foreman, the reigning champion, had been beating other great boxers with ease, held a 40-0 (37 KOs) record and was considered at the time to be unbeatable.
Ali was 32 and although he had established himself as one of the greatest fighters ever, he was a heavy 3-1 underdog for this fight. He realized that Foreman was younger, stronger and dangerous and developed his own unconventional (at least at the time) strategy to deal with these disadvantages. Now known as the "Rope-A-Dope", the idea was to let the stronger Foreman, known for his incredible punching power, back Ali into the ropes and wear himself out throwing punch after punch at Ali, who would be in a defensive position. Once Foreman was worn out, Ali would be able to set him up for a knock out.
The plan worked to perfection. Throughout the fight, Ali taunted George and invited him to keep throwing punches, uttering phrases like "That all you've got George?" and attempting to anger the champion into throwing even more well-defended punches. As the fight progressed, Ali used the ropes to help absorb the powerful punches he was being hit with. He also forced Foreman to support his weight whenever they would get tangled up, until the referee broke them up, all in an effort to tire the younger man out.
Although in a defensive position for the majority of the fight, Ali was able to use his speed and land an ever-increasing amount of punches of his own. The combination of these punches and being completely exhausted set Foreman up for the knockout. Foreman's arms were worn out, he had no energy behind his punches, and was unable to effectively defend himself from Ali's speed. Late in the 8th round, Ali connected with several quick left-right combinations and knocked Foreman to the ground. Although Foreman was able to get back to his feet by the count of 9, the referee realized that he was still dazed and ended the fight, resulting in Ali once again becoming the Undisputed Heavyweight champion.
Here is a classic case of an underdog using his opponent's advantage against him. George Foreman had incredible strength and punching power. However, Ali knew that throwing those powerful punches required lots of energy and let Foreman wear himself out throwing hundreds of them. Using the unconventional style dubbed the "rope-a-dope" enabled Ali to eventually neutralize Foreman's power.
As is common with unconventional or underdog strategies, it (1) required lots of work and physical effort (Ali was still boxing after all – he did have to score points and and work to cover himself from hundreds of powerful blows, (2) a willingness to do what others would not (stand there and get hit repeatedly by Foreman, rather than try a conventional defense), and (3) the ability to reject social approval (he was not "boxing" in the traditional way – standing up and going toe-to-toe, so to speak).
The lesson we can take away from this case is the ability to recognize an opponent's advantage (your disadvantage) and find a way to turn it around for your benefit. Ali chose not to fight in the conventional way – trading punches, dodging, moving around the ring, trying to score points – because he knew that would play into Foreman's strengths.
You can watch the highlights of the fight here: